return
Top Banner

Create or edit the top banner in Marketing > Banners. Remember to choose Location = Top of Page.
To customize this banner's colors, go to Storefront Design > My Themes, click Customize button of the current theme to open Theme Editor.

Find the options below: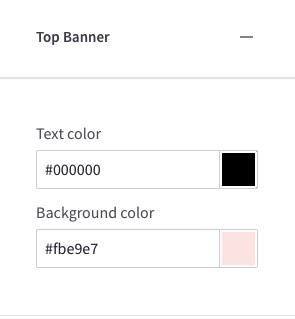 You can show the top banner on all pages or on all other page exclude the homepage. Go to Theme Editor > Banners > choose Advanced top header banner:
Edit the top banner's content in Marketing > Banners, click button Create a Banner. In Banner Content box, click the square HTML button to open HTML Source Editor.
Use the editor below to generate HTML. Click Export HTML button, copy & paste the generated HTML to HTML Source Editor.
Other fields should be configured as below:
Show on Page: Search Results Page
Visible: Checked
Location: Top of Page
Also check out the tutorial video below:
Display a top banner on all pages with the new documentation: